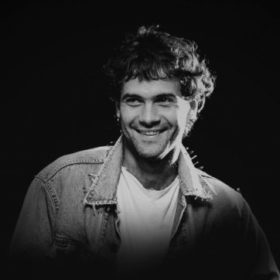 Cazuza
Agenor de Miranda Araújo Neto, better known as Cazuza (4 April 1958 – 7 July 1990), was a Brazilian singer and songwriter, born in Rio de Janeiro. Along with Raul Seixas, Renato Russo and Os Mutantes, Cazuza, both while fronting Barão Vermelho
more...
Agenor de Miranda Araújo Neto, better known as Cazuza (4 April 1958 – 7 July 1990), was a Brazilian singer and songwriter, born in Rio de Janeiro. Along with Raul Seixas, Renato Russo and Os Mutantes, Cazuza, both while fronting Barão Vermelho and at solo career, is considered one of the best exponents of Brazilian rock music. In his 9-year career, he sold more than 5 million albums and achieved 11 number one singles and 18 Top 10 singles in Brazil.
In 1989, he admitted publicly for the first time that he had AIDS and released his last album in life: Burguesia. Cazuza was openly bisexual but was not active in the LGBT movement. However, his openness about being a person with AIDS helped to change public perceptions and attitudes about HIV/AIDS prevention and treatment.
Cazuza died in Rio de Janeiro on July 7, 1990 at the age of 32. He was buried at the Cemitério São João Batista Botafogo, in Rio de Janeiro. Cazuza's mother set up the Viva Cazuza Society (Sociedade Viva Cazuza), a charity which sponsors AIDS prevention and provides a home for HIV-positive children.
Cazuza discography for download