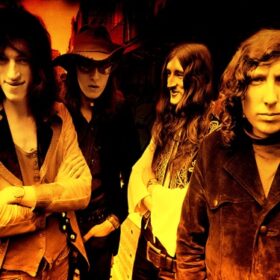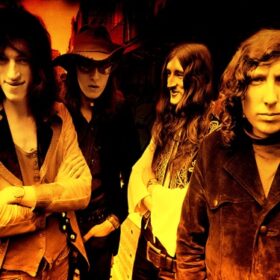 Atomic Rooster
Atomic Rooster are a British rock band originally formed by members of The Crazy World of Arthur Brown, organist Vincent Crane and drummer Carl Palmer. Throughout their history, keyboardist Vincent Crane was the only constant member and wrote the...
Read more
Genres: International Rock, International Rock, Hard Rock, Progressive Rock
Atomic Rooster are a British rock band originally formed by members of The Crazy World of Arthur Brown, organist Vincent Crane and drummer Carl Palmer. Throughout their history, keyboardist Vincent Crane was the only constant member and wrote the majority of their material. Their history is defined by two periods: the early-mid-1970s and the early 1980s. The band went through radical style changes, but they are best known for the hard, progressive rock sound of their hit singles, "Tomorrow Night" (UK No. 11) and "Devil's Answer" (UK No. 4), both in 1971.
In 2016 Atomic Rooster reformed with permission from Crane's widow, with the new line-up featuring two members from the various 1970s incarnations of the band.
In the summer of 1969, the Crazy World of Arthur Brown split in the middle of a second US tour. Keyboardist Vincent Crane and drummer Carl Palmer decided to leave Arthur Brown and return to England — their date of travel being Friday 13 June 1969, which was the year of the rooster in the Chinese calendar — and arranged a meeting with Brian Jones, who had just been let go from the Rolling Stones, to discuss a collaboration. After Jones's death on 3 July 1969, they adopted the name Atomic Rooster (with influence from the US band Rhinoceros) and soon recruited Nick Graham on bass and vocals. They followed with what had been the Crazy World of Arthur Brown arrangement of vocals, organ, bass and drums.
They soon undertook live dates around London; at their first headlining gig at the London Lyceum on 29 August 1969, the opening act was Deep Purple. They eventually struck a deal with B & C Records and began recording their debut album in December 1969. Their first LP, Atomic Roooster, was released in February 1970, along with a single, "Friday the 13th".
By March, Crane felt it was best that they add a guitarist and recruited John Cann from acid/progressive rock band Andromeda. However, just as Cann joined, bassist-vocalist Graham left. Cann (who played guitar and sang for Andromeda) took over vocal duties, while the bass lines were overdubbed on Crane's Hammond organ with a combination of left hand and pedals, and the vocals were replaced with Cann's vocals and some guitar on four tracks.
Atomic Rooster resumed gigging until the end of June 1970, when Carl Palmer announced his departure to join Emerson, Lake & Palmer. Ric Parnell filled the drum spot until August, when Paul Hammond was recruited from Farm. They then recorded their second album, Death Walks Behind You, released in September 1970. Originally it was not commercially successful, as with the first album, but by February 1971, the single "Tomorrow Night" reached No. 11 in the UK Singles Chart, with the album reaching No. 12 in the UK Albums Chart. Atomic Rooster made an appearance on the Top of the Pops, and toured to support the album.
In June 1971, just before they began configuring their line-up once again, the single "Devil's Answer" hit No. 4 in the UK. Atomic Rooster began recording In Hearing of Atomic Rooster (UK No. 18). Crane felt the band needed a singer who could "project" to an audience and asked Leaf Hound vocalist Pete French to audition for the band. Not long after French came into the studio, Cann began to feel increasingly marginalised, having been relieved of vocal duties and especially after hearing how much Crane had mixed out most of his guitar work on the album. He promptly left the band. Paul Hammond followed him to form Bullet, later renamed Hard Stuff. French recorded all the vocals on the album (save for "Black Snake", sung by Crane), and the album was released in August 1971.
The Atomic Rooster line-up featuring Pete French on vocals, Steve Bolton on guitar, a returning Ric Parnell on drums and Crane on keyboards toured Italy, then across America and Canada. This line-up played at a benefit gig in September 1971 at The Oval cricket ground, appearing in front of some 65,000 people, supporting The Faces and The Who. They continued touring into at least December of 1971, but French then moved on to sign with Atlantic Records and joined the American rock band Cactus and appeared on their 1972 album, 'Ot 'n' Sweaty.
In February 1972 Crane recruited vocalist Chris Farlowe, at that time with Colosseum, to take the place of French. They went on tour and recorded their first album together in the spring of 1972. They then released the album Made in England along with the single "Stand by Me", on Dawn Records. They were more into soul at this point, and the progressive and heavy rock leanings from the other releases had receded. The single did not chart and the album just barely caught any attention, even though touring followed through.
Guitarist Steve Bolton left at the end of 1972 and was replaced by John Goodsall, appearing under the name Johnny Mandala. They released the album Nice 'n' Greasy in 1973, along with the single "Save Me", a re-working of "Friday the 13th". This time, it was in a complete funk style. After nearly two years without any hits, Dawn Records dropped the group and Atomic Rooster began to unravel. After a tour, Farlowe, Mandala and Parnell left. The single "Tell Your Story, Sing Your Song" was released in March 1974 by "Vincent Crane's Atomic Rooster" on Decca. All subsequent gigs were played by Crane along with members of the blues band Sam Apple Pie. A final concert was played in February 1975, a benefit gig for the RSPCA; Crane afterward disbanded Atomic Rooster.
Genres: International Rock, International Rock, Hard Rock, Progressive Rock
Atomic Rooster albuns for download