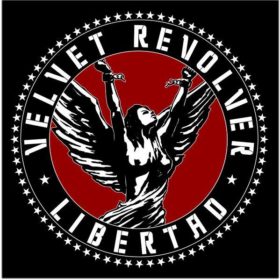 Velvet Revolver – Libertad (2007)
Tracks
Description
Artist
To listen to a song, click the "Play" button.
Let It Roll
She Mine
Get Out The Door
She Builds Quick Machines
The Last Fight
Pills, Demons & Etc.
American Man
Mary Mary
Just Sixteen
Can't Get It Out Of My Head
For A Brother
Spay
Gravedancer
Libertad is the second and final studio album by American hard rock band Velvet Revolver, released on July 3, 2007. The name is Spanish and translates to "Liberty" or "freedom" in English. According to a 2007 interview with Rolling Stone, along with the Stone Temple Pilots albums Core and Stone Temple Pilots, Libertad is one of only three albums lead singer Scott Weiland wrote while sober.
Velvet Revolver was an American hard rock supergroup consisting of former Guns N' Roses members Slash (lead guitar), Duff McKagan (bass, backing vocals), and Matt Sorum (drums, backing vocals), alongside Dave Kushner (rhythm guitar) formerly of punk more...
Genres: Hard Rock, International Rock
Also download other albums from Velvet Revolver