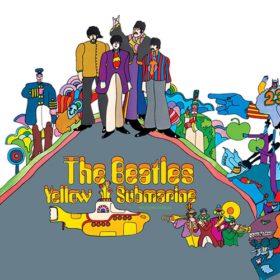 The Beatles – Yellow Submarine (1967)
Tracks
Description
Artist
To listen to a song, click the "Play" button.
Yellow Submarine
Only A Northern Song
All Together Now
Hey Bulldog
It's All Too Much
All You Need Is Love
Pepperland
Sea Of Time
Sea Of Holes
Sea Of Monsters
March Of The Meanies
Pepperland Laid Waste
Yellow Submarine In Pepperland
Yellow Submarine is the tenth studio album by English rock band the Beatles, released on 13 January 1969 in the United States and on 17 January 1969 in the United Kingdom. It was issued as the soundtrack to the animated film of the same name, which premiered in London in July 1968. The album contains six songs by the Beatles, including four new songs and the previously released "Yellow Submarine"and "All You Need Is Love". The remainder of the album is a re-recording of the film's orchestral soundtrack by the band's producer, George Martin.
The project was regarded as a contractual obligation by the Beatles, who were asked to supply four new songs for the film. Some songs were written and recorded specifically for the soundtrack, while others were unreleased tracks from other projects. The album was issued two months after the band's self-titled double LP (also known as the "White Album") and was therefore not viewed by the band as a significant release. Yellow Submarine has since been afforded a mixed reception from music critics, some of whom consider that it falls short of the high standard generally associated with the Beatles' work. It reached the top 5 in the UK and the US, and has been reissued on compact disc several times.
The Beatles were an English rock band formed in Liverpool in 1960. With members John Lennon, Paul McCartney, George Harrison and Ringo Starr, they became widely regarded as the foremost and most influential music band. Rooted in skiffle, beat and more...
Genres: International Rock, Pop Rock, Psychedelic Rock
Also download other albums from The Beatles