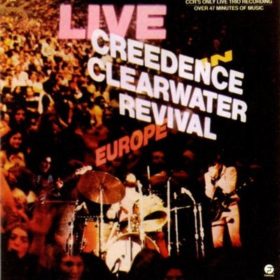 Creedence Clearwater Revival – Live in Europe (1973)
Tracks
Description
Artist
To listen to a song, click the "Play" button.
Born on the Bayou
Green River / Suzie Q
It Came Out of the Sky
Door To Door
Travelin' Band
Fortunate Son
Commotion
Lodi
Bad Moon Rising
Proud Mary
Up Around the Bend
Hey Tonight
Sweet Hitch-Hiker
Keep on Chooglin'
Live in Europe is the first vinyl-Double-LP live album by American band Creedence Clearwater Revival, released in 1973 documenting the Mardi Gras tour.
The album is notable because it was performed as a trio following Tom Fogerty's departure. The record was released despite John Fogerty's strong objections. But still John Fogerty sings, plays guitar, solo-guitar and harmonica. The album was released after John Fogerty's final struggles with Fantasy Records, in which he as song-writer was trapped. In 1973, John Fogerty said he never would play a Creedence song ever again, since this only would benefit Fantasy Records. This became a promise which he held for some 20 years.
Creedence Clearwater Revival, often referred to as simply Creedence or CCR, was an American rock band active in the late 1960s and early 1970s.The band consisted of lead vocalist, lead guitarist, and primary songwriter John Fogerty, his more...
Genres: Classic Rock, International Rock