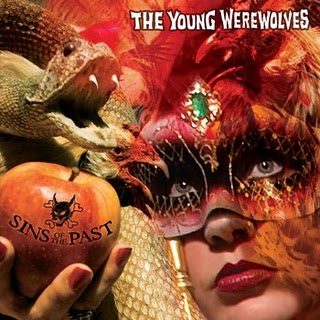 The Young Werewolves – Sins of the Past (2010)
format_list_bulleted
Faixas
description
Descrição
people
Artista
Para escutar uma música, clique no botão "Play".
play_circle_outlineTwelve Steps to Rock N Roll
play_circle_outlineGood, Bad, Misunderstood
play_circle_outlineMidnight Monster Hop
play_circle_outlineZombie Prom
play_circle_outlineDead and Gone
play_circle_outlineIn The Shadows
play_circle_outlineNow's the Time
play_circle_outlineThe Dreamtime
play_circle_outlineDamned If You Dare
play_circle_outlineGeneration Breakdown
play_circle_outlineRise or Fall
play_circle_outlineUnder The full Moon
play_circle_outlineHot Rod Burnin'
Sins of the Past é o terceiro álbum da banda de rock da Filadélfia, estilo rockabilly,  The Young Werewolves. O CD contém 13 músicas e o que realmente faz delas grandes canções é a incorporação de saxofones, um grande exemplo disso vem da música "Zombie Prom". A banda parece crescer muito rápido. No ano passado, a teve suas músicas em seriados e filmes como: Friday Night Lights, Gossip Girl, Burn Notice, Smallville, Dog The Bounty Hunter, Man VS Food, One Tree Hill, e Vampire Diaries.
The Young Werewolves é uma banda de rock da Filadélfia formada em 2002. O trio foi rotulado como do estilo rockabilly, psychobilly, punk , garagem, e de surf rock por publicações nos sites Allmusic, The Village Voice e Maximum mais...
Gêneros: Rock Internacional, Rockabilly