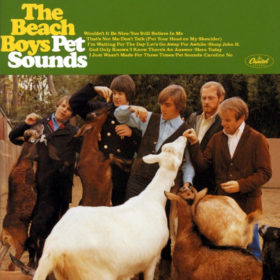 The Beach Boys – Pet Sounds (1966)
Para escutar uma música, clique no botão "Play".
Wouldn't It Be Nice
You Still Believe in Me
That's Not Me
Don't Talk (Put Your Head on My Shoulder)
I'm Waiting for the Day
Let's Go Away for Awhile
Sloop John B
God Only Knows
I Know There's an Answer
Here Today
I Just Wasn't Made for These Times
Pet Sounds
Caroline No
Pet Sounds é o décimo primeiro álbum de estúdio da banda de rock americana The Beach Boys, lançado 16 de maio de 1966 pela Capitol Records.
Este álbum é um dos primeiros álbum do art rock. Os principais alicerces para este álbum são encontrados nos álbuns anteriores de 1965, The Beach Boys Today! e Summer Days (and Summer Nights!).
The Beach Boys é uma banda de rock dos Estados Unidos formada em Hawthorne, Califórnia, em 1961, e é tida como uma das mais influentes da história do rock e do pop. Emplacou dúzias de canções nas paradas de sucesso (também mais...
Gêneros: Art Rock, Rock Internacional