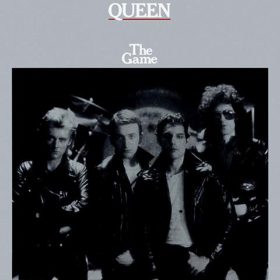 Queen – The Game (1980)
Para escutar uma música, clique no botão "Play".
Play the Game
Dragon Attack
Another One Bites the Dust
Need Your Loving Tonight
Crazy Little Thing Called Love
Rock It (Prime Jive)
Don't Try Suicide
Sail Away Sweet Sister
Coming Soon
Save Me
The Game é o oitavo álbum de estúdio da banda Queen, lançado a 30 de Junho de 1980. Este disco marca a estréia de Freddie Mercury tocando violão, no rockabilly "Crazy Little Thing Called Love". Este álbum foi muitíssimo bem conceituado especialmente nos Estados Unidos, alcançando o primeiro lugar nas paradas daquele país com duas faixas: "Crazy Little Thing Called Love" e "Another on Bites the Dust".
Queen é uma banda de rock britânica, formada em Londres, em 1971, originalmente composta por Freddie Mercury (vocal principal, piano), Brian May (guitarra, vocal), John Deacon (baixo) e Roger Taylor (bateria, vocal). Brian e Roger ocasionalmente mais...
Gêneros: Hard Rock, Rock Internacional
Baixe também outros álbuns de Queen