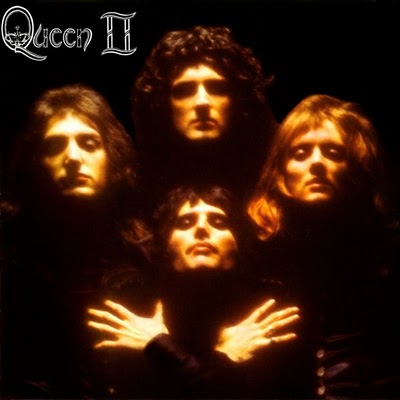 Queen – Queen II (1974)
format_list_bulleted
Faixas
description
Descrição
people
Artista
Para escutar uma música, clique no botão "Play".
play_circle_outlineProcession
play_circle_outlineFather to Son
play_circle_outlineWhite Queen (As It Began)
play_circle_outlineSome Day One Day
play_circle_outlineThe Loser in the End
play_circle_outlineOgre Battle
play_circle_outlineThe Fairy Feller's Master-Stroke
play_circle_outlineNevermore
play_circle_outlineThe March of the Black Queen
play_circle_outlineFunny How Love Is
play_circle_outlineThe Seven Seas of Rhye
play_circle_outlineSee What A Fool I've Been
Queen II é o segundo álbum de estúdio da banda britânica Queen, no qual se destaca, entre outras, a música "Seven Seas of Rhye", foi lançado em 1974. Foi gravado no Trident Studios , Londres, em agosto de 1973, com co-produtores Roy Thomas Baker e Robin Cable, e projetado por Mike Stone.
Os dois lados do LP original foram rotulados de "Lado branco" e "Lado Negro" (em vez dos lados convencionais "1" e "2"), com imagens correspondentes da banda vestida de branco ou preto. Também é um álbum conceitual, com o lado branco com canções com um tema mais emocional e o lado negro quase inteiramente sobre a fantasia, muitas vezes com temas bastantes obscuros.
Queen é uma banda de rock britânica, formada em Londres, em 1971, originalmente composta por Freddie Mercury (vocal principal, piano), Brian May (guitarra, vocal), John Deacon (baixo) e Roger Taylor (bateria, vocal). Brian e Roger ocasionalmente mais...
Gêneros: Hard Rock, Rock Internacional
Baixe também outros álbuns de Queen