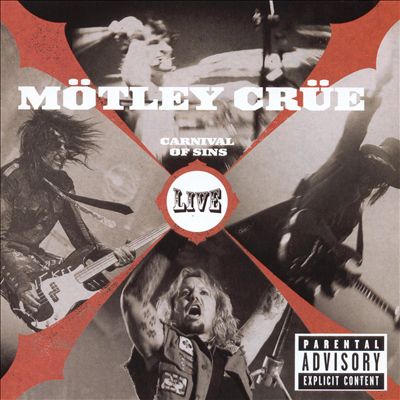 Mötley Crüe – Carnival of Sins Live (2006)
format_list_bulleted
Faixas
description
Descrição
people
Artista
Para escutar uma música, clique no botão "Play".
play_circle_outlineShout At The Devil
play_circle_outlineToo Fast For Love
play_circle_outlineTen Seconds To Love
play_circle_outlineRed Hot
play_circle_outlineOn With The Show
play_circle_outlineToo Young To Fall In Love
play_circle_outlineLooks That Kill
play_circle_outlineLouder Than Hell
play_circle_outlineLive Wire
play_circle_outlineGirls Girls Girls
play_circle_outlineWild Side
play_circle_outlineDon't Go Away Mad (Just Go Away)
play_circle_outlinePrimal Scream
play_circle_outlineGlitter
play_circle_outlineWithout You
play_circle_outlineHome Sweet Home
play_circle_outlineDr Feelgood
play_circle_outlineSame Ol' Situation
play_circle_outlineSick Love Song
play_circle_outlineIf I Die Tomorrow
play_circle_outlineKickstart My Heart
play_circle_outlineHelter Shelter
play_circle_outlineArnachy In The UK
Carnival of Sins: Live é um álbum duplo e ao vivo da banda de hard rock Mötley Crüe, lançado em 2006 pelo próprio selo Mötley. Foi gravado entre os anos de 2005 e 2006 na turnê Carnival of Sins.
Carnival of Sins também está disponível em DVD, com o álbum em sua totalidade. A rede Wal-Mart também lançou os dois discos individualmente como Carnival of Sins vol. 1 e vol. 2.
Mötley Crüe (pronunciado 'mótlei crul') é uma banda estadunidense de heavy metal criada em Los Angeles, Califórnia em 1981. A banda foi formada pelo baixista Nikki Sixx (que estava envolvido numa banda chamada London) e pelo mais...
Gêneros: Heavy Metal, Rock Internacional
Baixe também outros álbuns de Mötley Crüe