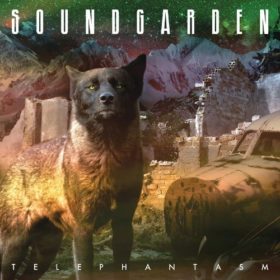 Soundgarden – Telephantasm (2010)
Músicas
Soundgarden - Hunted Down
Outros vídeos dessa música:

Soundgarden - Hunted Down [Live At Hyde Park 2012]

Hunted Down

Soundgarden - Hunted Down (LIVE - TV Show)

Mix - Soundgarden - Hunted Down

17 Hunted Down
11
Blow Up The Outside World
Sobre o Álbum
Telephantasm é um álbum de compilação da banda grunge Americana Soundgarden, apresentando músicas que abrangem 23 anos da carreira da banda, foi lançado em 28 de setembro de 2010, através da A & M Records. O álbum foi certificado platina pela RIAA após seu primeiro dia de disponibilidade de varejo com base no milhão de discos que foram incluídos em pacotes para o videogame Guitar Hero: Warriors of Rock.
Gêneros: Grunge, Rock Internacional
Sobre o Artista/Banda

Soundgarden foi uma banda de rock norte-americana formada em 1984, em Seattle, Washington e que, ao lado de Nirvana, Alice in Chains e Pearl Jam, constituiu-se como um dos principais representantes do movimento grunge, incorporando, mais...
Outros álbuns da discografia de Soundgarden para download