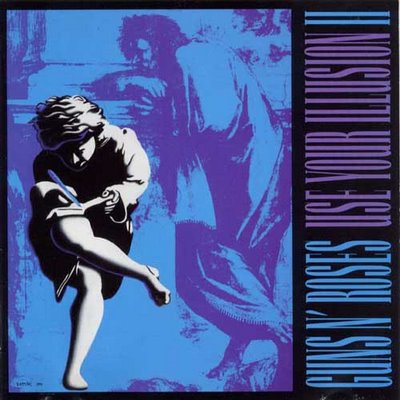 Guns N' Roses – Use Your Illusion II (1991)
format_list_bulleted
Faixas
description
Descrição
people
Artista
Para escutar uma música, clique no botão "Play".
play_circle_outlineCivil War
play_circle_outline14 Years
play_circle_outlineYesterdays
play_circle_outlineKnockin' on Heaven's Door
play_circle_outlineGet in the Ring
play_circle_outlineShotgun Blues
play_circle_outlineBreakdown
play_circle_outlinePretty Tied Up
play_circle_outlineLocomotive
play_circle_outlineSo Fine
play_circle_outlineEstranged
play_circle_outlineYou Could Be Mine
play_circle_outlineDon't Cry (alt. lyrics)
play_circle_outlineMy World
Use Your Illusion II é o quarto álbum de estúdio da banda americana de hard rock Guns N' Roses, lançado em 17 de setembro de 1991, simultaneamente com Use Your Illusion I. Use Your Illusion II é o mais popular dos dois lançamentos. Foi o último com o guitarrista base Izzy Stradlin e também o último a contar com alguma participação de Steven Adler.
Possuindo faixas mais sérias que o primeiro álbum, Use Your Illusion II vendeu até hoje cerca de 15 milhões de cópias.
O álbum possui músicas pesadas, como "You Could Be Mine" e "Shotgun Blues", passa por músicas de protesto como "Civil War" e também contém baladas como "Knocking On Heaven's Door" (Bob Dylan) e "So Fine". O videoclipe de "Estranged" custou à banda cerca de 4 milhões de dólares.
A capa de Use Your Illusion II é semelhante à de Use Your Illusion I, sendo diferente apenas a cor azul no lugar da amarela.
Guns N' Roses (às vezes abreviado como G N' R ou GnR) é uma banda americana de hard rock, formada em Hollywood, Los Angeles, Califórnia, em 1985. A banda já lançou seis álbuns de estúdio, três EPs e um álbum ao vivo. O co-fundador e líder mais...
Gêneros: Hard Rock, Rock Internacional
Baixe também outros álbuns de Guns N' Roses